Adidas has just launched the most digital store ever on Oxford Street and their interactive fitting rooms attract a lot of attention: whether through RFID technology that gives shoppers all the product information, or through their use of geolocation to bring customers the right items, their example triggers a myriad of creative ideas and we can't help but wonder: what does the future of fitting rooms look like?  
Today, fitting rooms are a great pain point for retailers: they are difficult to maintain, unorganized, messy, and crowded. As such,instead of encouraging customers to shop, they are a barrier to committing the purchase. Customers, on the other side, also do not find the experience enjoyable for many reasons: either because of the small-sized fitting rooms, lack of privacy, big crowds, no social aspect, or staff impatience. Since shoppers make buying decisions in the fitting rooms, it is imperative for retailers to offer the best service.  
What if there was an option of transforming this purely functional space, into an interactive experience where customers feel empowered? Key industry players as Adidas have already recognized the importance of fitting rooms and are making vital steps towards their metamorphosis. To join their path, get to know the real frustrations customers face in fitting rooms, and master how to approach them.
Keep it real
How many times did you excitingly walk into a fitting room holding a pair of jeans that looked amazing on hangers, but utterly disappointing once you tried them out? We recognize fitting rooms have the fascinating power to either emphasize your flaws or completely make them disappear. Although the second scenario sounds tempting, they both lead to disappointment and here is why.
When getting a grasp of people's feelings towards trying clothes in fitting rooms, one term keeps emerging – vulnerability. Indeed, as we see our bodies from many different angles, under bright light, presented in a completely unrealistic way, a very vulnerable version of ourselves comes out. To solve this problem, some retailers carelessly put flattering mirrors that improve our appearance and encourage us to buy the worn item, but this doesn't lead to long-term satisfaction.
To break down, selling clothes that look good in front of the mirror but lose their charm once worn outside lead to one main thing: customers associating their disappointment with that specific brand. Thus, if retailers aim to put their customers first, they should head away from tools that only bring short-term satisfaction.  Moreover, they should understand that realistically portraying bodies may well be the most useful thing to do in the long run.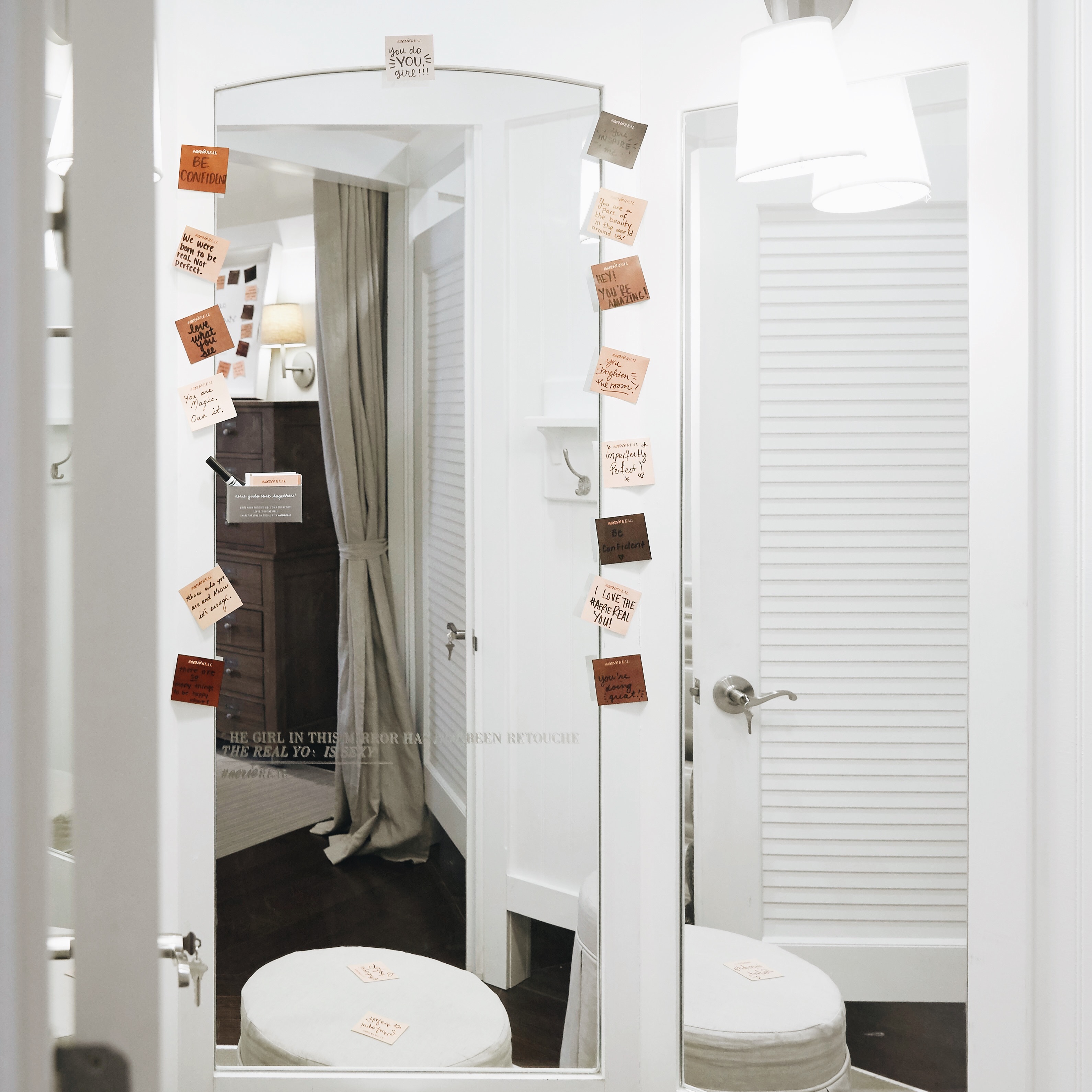 Today, it is easier than ever to return purchased products and statistics show that more than 37 percent of people bring clothes back because of a bad fit. If retailers build fitting rooms that portray customers in real light, they could potentially reduce the number of returns. Hence, when designing their stores, retailers should focus on empowering their customers in an honest way all while offering an enjoyable experience. They can do so on in many ways: by putting empowering messages on the walls, personalizing the fitting rooms to make the shopper feel more comfortable and even providing tips on developing a positive body image. Fashion Brand River Island, for example, empowers customers to post photos from the 'magic mirrors' on social media, while Selfridges places selfie sticks, with the same aim of empowering their customers.
Say hello to interactive fitting rooms
Some brands have gone the extra mile to create a truly enjoyable experience in the fitting rooms and their efforts have not gone unnoticed. To do so, they put the spotlight on merging the online and offline experience in a velvety way, migrating all the digital benefits into the real world. Get inspired by the pioneers of digital fitting rooms: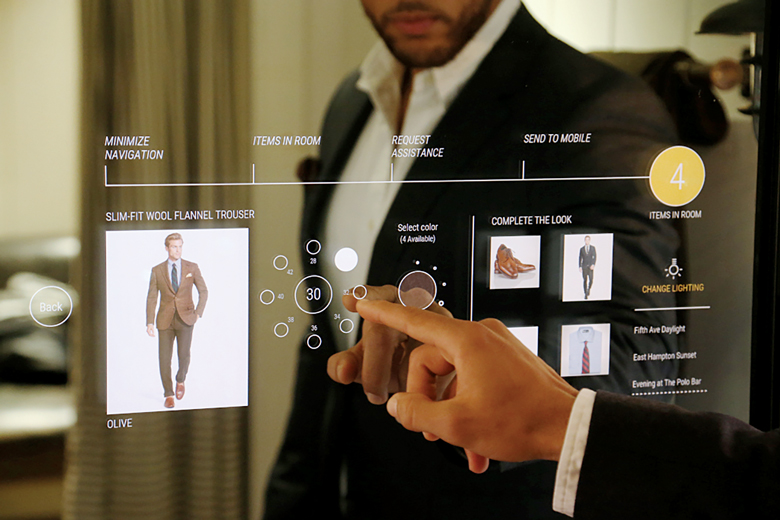 Collaborating with Oak Lab's Fitting Rooms, Ralph Lauren used RFID technology to recognize the items shoppers bring in the fitting room. Once inside, mirrors show product information as available sizes, colors, and complementary products.
Besides, there is a 'call an associate button' inside that connects the customer to a salesperson on the floor, who assists the shopper in the process. Shoppers can customize the lighting scheme in the fitting room to mimic the social occasion where they intend to wear the clothing.The social occasions include "Fifth Avenue Daylight," "East Hampton Sunset" and "Evening at the Polo Bar", which all create a truly Ralph Lauren powerful experience.  
Burberry also attached RFID chips to certain clothes so when a customer would approach one of the screens in the fitting room, mirrors would recognize it and show the story of the garment, its craftmanship, catwalk videos and complementary products that fit perfectly with the chosen item. In this way, the brand used the opportunity to transform a regular service into a unique storytelling experience.
For their experience, Mango has teamed up with Vodafone and Jogotech to explore potential opportunities for the digital fitting rooms. The Spanish store allows shoppers to scan the tags of items they have brought in the fitting rooms and see complementary items, different colors, and sizes in the mirror.  Shoppers can contact staff directly through the digital mirror, who are then notified through digital watches.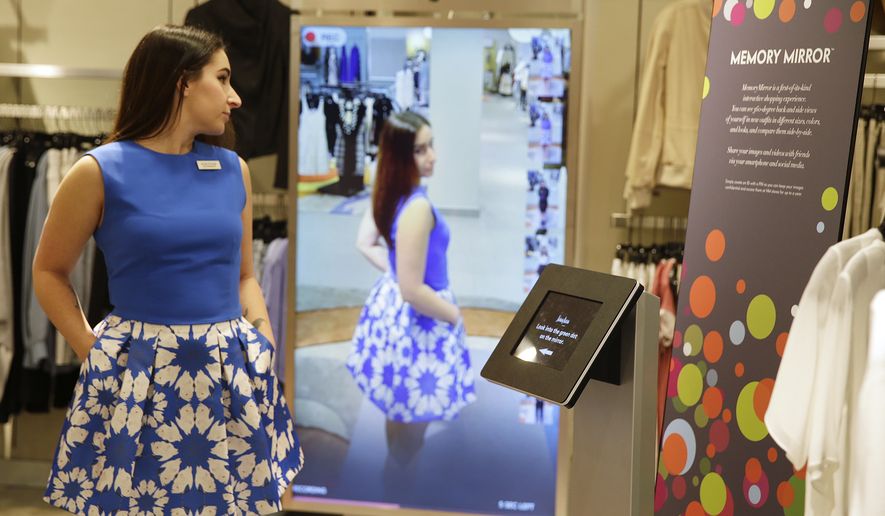 These versions of digital fitting rooms are transforming the retail industry in a way that was unthinkable before. Besides offering a unique and enjoyable, shopping experience, retailers are able to collect precious data from physical stores without having to depend purely on the online footprint: conversion rate per item, time spent in the fitting room, and conversion rate per fitting room visit are precious data collected through the smart mirrors. This can further help retailers understand which items more successful than others or which ones are tried, but not purchased. Hence, staff can reorganize their stock and understand which items are sold better and for what reason. Digitalization can fundamentally change the way retailers see fitting rooms, transforming it from a must-have service to a pool of resources.
We all want to socialize
Long before the emergence of small fitting rooms, trying out clothes in stores was a complete experience. Customers would spend a long time in larger rooms, trying out clothes, looking for the right fit and making adjustments. As fast fashion took over, the number of fitting rooms increased and their size decreased, but the social aspect related to it is not forever gone. Shopping is a form of entertainment and it is always more fun if done with someone else.
Browsing for clothes, trying them out, and getting feedback is one of the crucial aspects of the experience. However, if stores do not offer enough space, limit the number of people who can enter the cabins, and hurry customers out, the social aspect of shopping will completely fade away and with it the customer satisfaction.
To change this, fashion brand Abercrombie&Fitch transforms fitting rooms from being purely functional spaces to enjoyable ones through their 'Fitting Room Suites'. There, family and friends can sit, relax and enjoy trying clothes together.  
Adidas NEO, the sub-brand of Adidas targeting teenagers, uses a more millennial approach: they apply social mirrors that connect to Facebook and Twitter and allow customers to get immediate feedback from their social network. As many of us still bring partners, family, and friends to get the best advice, instead of trying to reduce the number of people who can enter the fitting room, retailers should use this opportunity to build a social experience.
Long queues bring no good
Long queues are probably the biggest turn-off for every shopper and working on queue management is necessary to prevent shoppers from leaving. Recent statistics show that if shoppers see more than 10 people queuing, 19 percent of them will just walk away. To come up with the best tactics, retailers need store analytics, but there are still some basic steps you can implement:
Install automated occupancy sensors lights which show whether the fitting room is free or not
Install iPad displays with the current number of rooms occupied
Display the estimated waiting time for fitting rooms
Show notifications about available fitting rooms throughout the store
As fitting rooms are one of the key decision points in the customer journey, retailers need to make this experience as enjoyable as possible. With all the recent developments in retail technology, doing so has become easier than ever. Make sure not to miss out on this one and start implementing changes now.  
Are you curious to learn more? Through our integrated decision-making platform at StoreDNA, we help you deliver dramatically improved performance through better product assortments, store layouts, visual merchandising, and associate optimization. Learn more here.