Long before the emergence of e-commerce and social shopping, brick-and-mortars did not have to worry about ways of getting their customers in-store. On the contrary, in-store shopping was the norm.
In the last decade, however, things have drastically changed, forcing brick-and-mortars to rethink their strategies. With the birth of online shopping, many shoppers have started recognizing the convenience of browsing from home and getting their orders delivered without leaving the comfort of their house. In the last 2 years, we have also been witnessing the emergence of social shopping, allowing shoppers to purchase their favorite items directly from social media.
Social networks, particularly Facebook and Instagram, are having a big impact on shopping behavior. According to the CivicScience survey, 22% of consumers say they bought something directly from a social media app, while nearly 25% of business owners have started selling through Facebook.
Looking at its simplicity and user-friendly navigation of the platforms, their popularity comes as no surprise. Developing a Checkout feature, Instagram enables users to buy items without navigating to the merchant's site. Their 'buy' button, shoppable posts, and stories also serve as an effective call-to-action. Facebook, on the other hand, is continually making efforts to improve their Facebook Marketplace by introducing tools that make it easy to discover, buy, and sell items.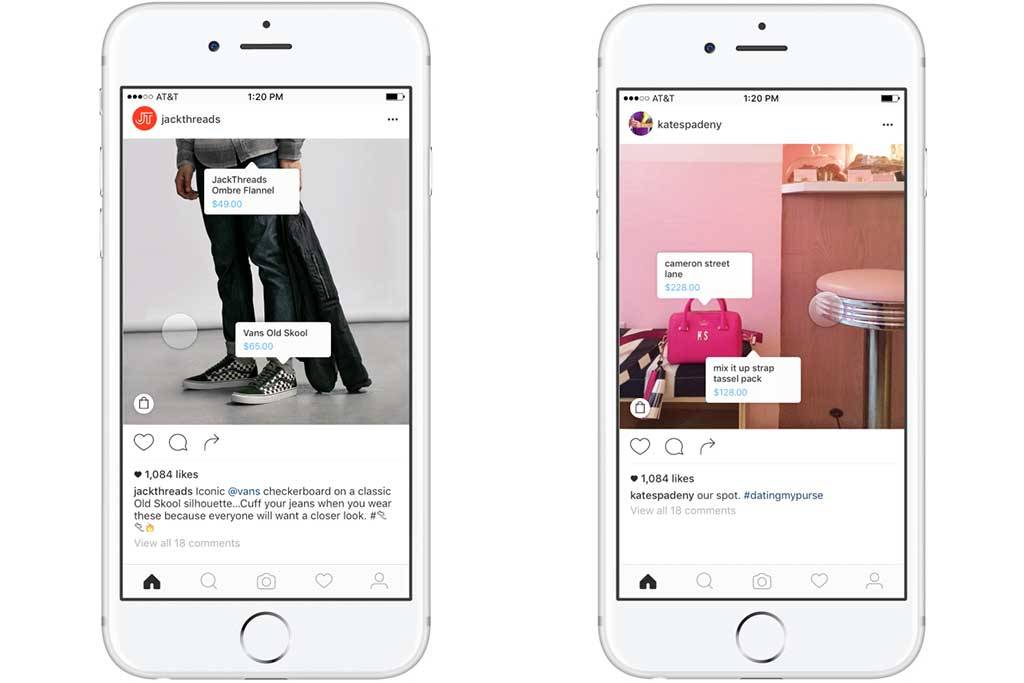 Should brick-and-mortars be worried about this trend that leaves out in-store shopping and focuses on the online world? Giving the correct answer might be tricky, as some still fear the retail apocalypse, while others emphasize that 90% of purchases are still being made in-stores. To get the best of both worlds, here are a few ways brick-and-mortars can use digital to their advantage and apply it to a unique in-store strategy:
Meet your online customers with Click and Collect
With Click and Collect, retailers harmonize the in-store experience and online convenience in a unique way as shoppers buy a product online, but pick it up in-store.
According to the Bell and Howell study, 49% of shoppers who come to collect their items will also make an unplanned purchase in-store. This optimistic statistic is a great sales opportunity for brick-and-mortars and a convenient way of meeting online shoppers and converting them into real ones.
To encourage Click and Collect, retailers should share clear instructions for the use of service, which might still be unfamiliar to many. Retailers should also let customers check whether their item is in stock, and emphasize the possibility of picking it at the earliest convenience. To further strengthen this feature, the process should be very easy to regular users. The option of saving one store and using it for future orders might be a good start.
With no shipping costs, speedy service, and no fear of the package ending in the wrong hands, Click and Collect can be used as a great advantage over competitors. Next to the aforementioned advantages, this model also greatly reduces transport costs and contributes to a more environmentally friendly service. We have already written about the importance of incorporating sustainable elements in your strategy, and you can read all about it here.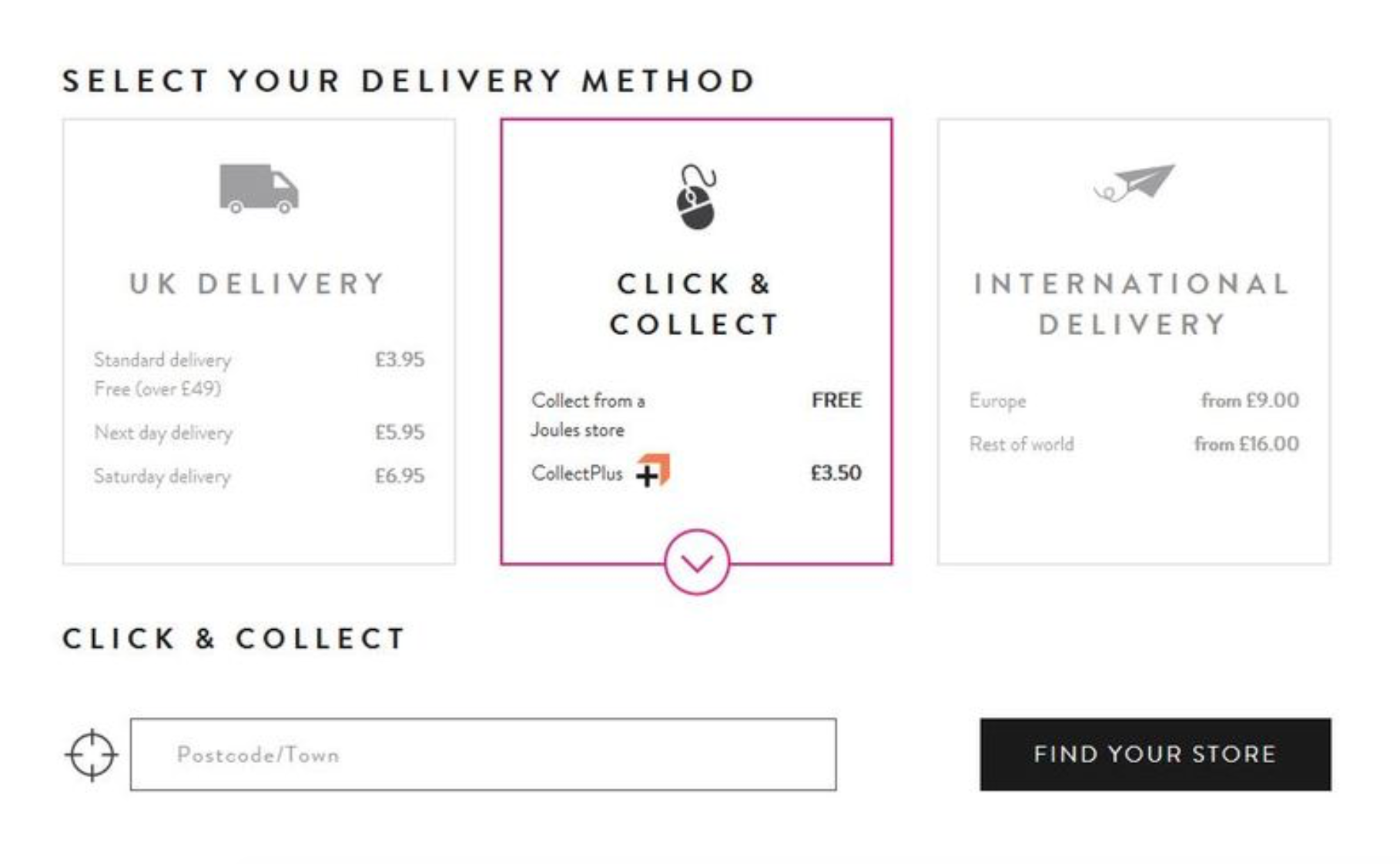 Focus your marketing on nearby customers
As a brick-and-mortar, you should not shy away from marketing strategies that bring new customers in-store. However, before setting a marketing strategy, be clear on what your goal is. Is it raising awareness about your brand, promoting a new product, or encouraging shoppers to visit your store?
If you aim to bring shoppers in-store, targeting an audience that is located far away from your actual brick and mortar is pointless. To attract your customers in-store, a more efficient way to do so is to market locally. If an online customer's home address is near your store, automatically segment them in your email list and include store location, working hours and contact info to every message sent. Many tools can help optimize your business listing and increase traffic, one of them being Google My Business. Using the feature, you can become more visible to locals by showing content about your store on Google Maps.
If your goal is to bring local customers not only in-store but also online, familiarizing yourself with the Air Jordan strategy might be useful. The footwear brand partnered with Snapchat for the release of their new collection worn by NBA Stars. During one of their games, they targeted consumers within a specific radius of the arena where the game was played with a special Snapcode. The code gave users an early access to the exclusive launch sale, combining the real and digital world in an innovative way.
Create an in-store experience that will resonate with your audience
Another major way brick-and-mortars can use social networks is to listen to their customers' wants and needs, and apply the solutions in-store. Here is an innovative example: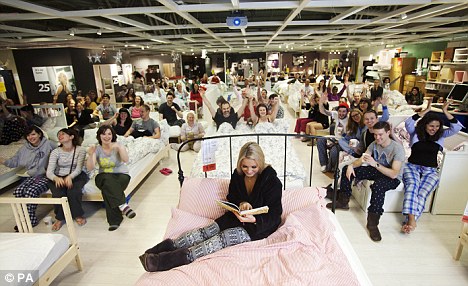 The world's largest furniture retailer IKEA organised a sleepover in their warehouse in Essex for 100 fans who won a Facebook challenge. The winners were able to select an Ikea mattress, sheets, and pillows, and spend the night in a unique way. After its success, the experience was repeated in several locations. In Australia, for instance, the winners got personal advice from a sleep expert, and got to take home the complete bedroom solution that was recommended to them. Combining elements of digital, fun and novelty, IKEA made sure the attendees get an unforgettable 'in-store' experience.
Reflecting on this example, it is evident that unique online experiences can quickly create a good buzz, but it is in-store experiences that are likely to resonate with your audience for a longer time. With this in mind, providing elements of unexpectedness, originality, and interactiveness, all with a touch of digital,  is critical for a brick-and-mortar to survive.
Are you curious to learn more? Through our integrated decision-making platform at StoreDNA, we help you deliver dramatically improved performance through better product assortments, store layouts, visual merchandising, and associate optimization. Learn more here.