"Ten years from now, all car dealerships will be closed."
"The Death of traditional automotive retailing"
"Automotive retail is simple: go digital or go bust"
If you are an automotive professional, you have stumbled upon these headlines lately more than ever. It seems that everybody is predicting the slow and painful death of traditional car retail.
This article's purpose is to demystify those headlines and explain why the dealers will still be here in 10 years. We will also investigate how the dealer will change to accommodate modern shopper's needs.
design
Let's take a look at top 5 influencers which come top of mind when consumers are buying a car:
Quality & Reliability
Gas Mileage
Price Point
Brand Reputation
Safety
Shoppers identify in-person experiences as the most influential - test drives, visiting a dealer, talking to a salesperson. This proves that for the high prices goods, customers still feel they do need both personal touch and physical experience to actually make a decision.
Living in the era of e-commerce and especially in the corporate cars leasing space, we often hear that more and more car quotations are requested online without visiting showrooms. At Monolith, we have investigated what is the relationship between traffic to the showroom and number of quotations issued to customers. By examining data from the leading showrooms in EU, we have seen that that is not the case. Good news for the dealer. You are still important, and that will not change that soon.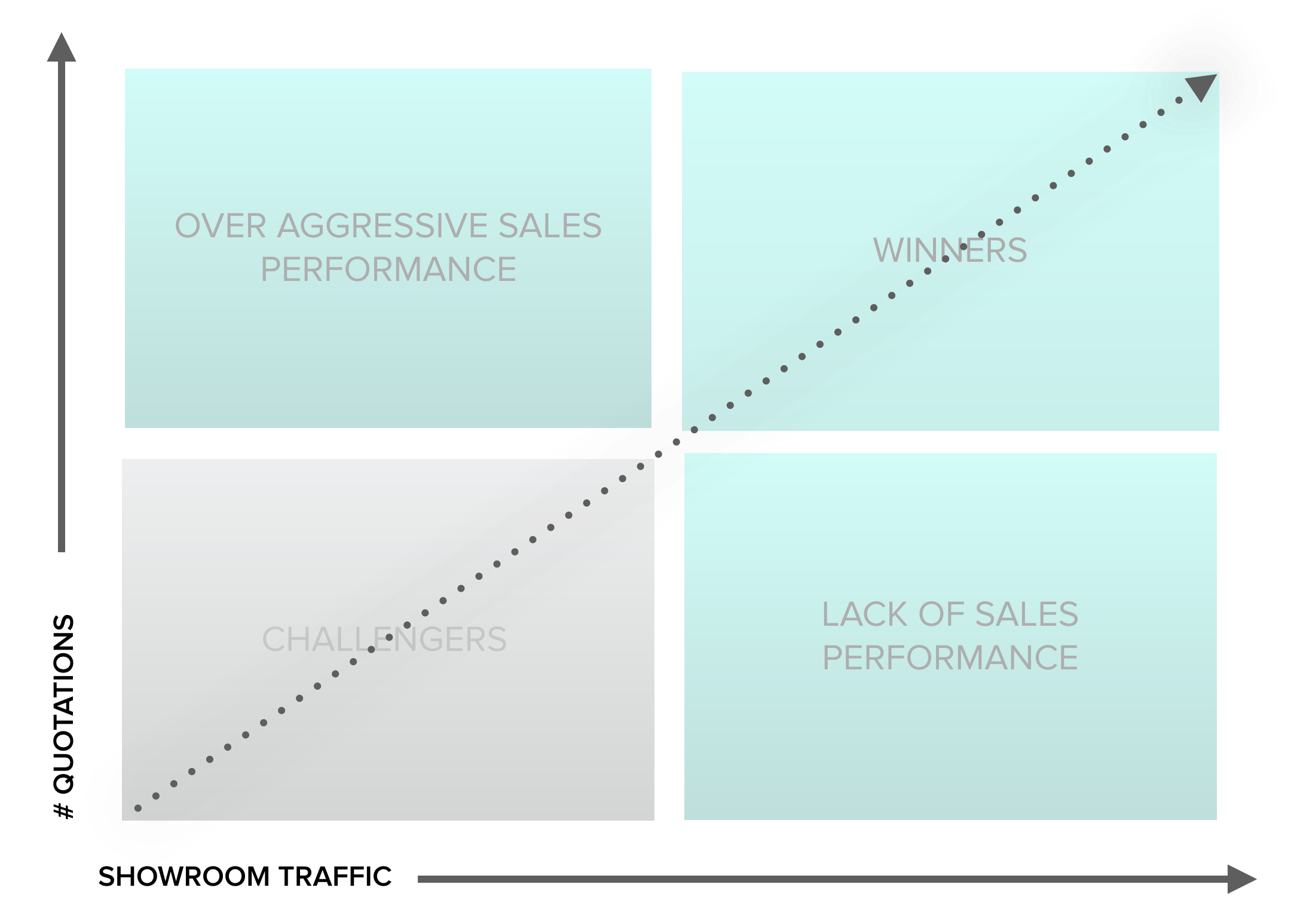 If customers are still visiting the showroom, what do they ask and how could brands and dealers make shopper's decision easier by creating the perfect dealership experience? We believe that there are four pillars which make the great showroom and where shopper's emotions and logic collide in a way which is good for the shopper, dealer, and brand itself.
Consumer right assortment.
"I trust dealerships that show me the vehicles I want to see versus what they're trying to sell." In many cases when the new car is launched and displayed thru above the line media, that same car (color and model) is not readily available in the showroom to browse, not to mention test drive. Often, the assortment of the showroom follows the traditional top sellers without the underlying understanding of what customers want additionally. Readily available cars which consumers want with frictionless test drive experience should yield more conversion into test drives.
Consumer-centric sales representatives
Consumer-centric representatives who can deliver product presentation with detailed needs-based analyses. This includes the fair representation of competition and good knowledge of features / benefits of competitors and their brand. Customers expect extensive comparison tools which are graphical and interactive. Finally, consumers expect personalized interactions and active use of social media/messengers for the feedback (e.g., deliver the quotation thru WhatsApp). Sales representatives should not be sitting behind their desks like in the old fashion banks, which creates a barrier between the shopper and sales representative. In turn, sales reps should be present at the floor and conduct a non-intrusive, soft sales methods in their communications with the customer.
Fair and transparent pricing.
Customers expect easy to understand pricing elements, and When it comes to incentives and financing, they would like to have the quick and easy way to understand what is the total cost of their purchase (think of iPad spec poles which include real-time finance calculations which you could send to yourself).
Benefit oriented presentation.
Similarly how Apple is turning their stores into Town Squares - places where customers meet and learn how to best use their devices, car retailers should use the opportunity to showcase key benefits their products offer. For instance, customers should be encouraged to connect their phones to audio systems to trial vehicle audio systems. Dealers should conduct public demonstrations of safety features like automated braking and let customers participate in the demonstrations. Today, we are bombarded by feature driven sales presentation not allowing us to understand the underlying benefits which these products offer. This programming should be introduced along with changes in the design of the showrooms which would follow the narrative of educating and inspiring the customers they serve.
To summarise: perfect customer service, convenience, respect of time, the efficiency of the information flow and transparent and fair pricing are the critical components that shoppers want in a perfect dealership. Dealers who excel in these areas, and focus on making the entire retail experience easier, trustworthy and enjoyable will win the hearts (and wallets) of the shoppers.
We do believe that if the dealership takes care of the top line (shopability), the bottom line will take care of itself (profitability). That if the experience is great, shoppers won't just turn into customers, but into loyal ambassadors of our brands and dealers as preferred shopping and servicing destination.