The holiday season is one of the most exciting periods for retailers, with plenty of opportunities to maximize their sales and reconnect with their customers. This year, with the global pandemic impacting the retail industry hard, it is safe to say the holiday season will be an unusual one. From the complexity of logistics to additional planning and safety guidelines, the upcoming period will require brands to go the extra mile.
But how has the pandemic shifted shoppers' attitudes towards holiday shopping?
Despite the hard time retailers are going through, customers' expectations are not lowering down. According to a recent survey by Accenture, 77% of shoppers claim they require their online purchases to be delivered home, while 56% said they wouldn't shop at the same brand if they have an unsatisfactory delivery experience this Christmas.
As many put their travel holidays on hold, an IBM survey shows that nearly 7 out of 10 respondents will shift some of their spendings from services to retail products. On that note, Deloitte predicts a 1 to 1.5 percent increase in holiday retail sales compared to last year. When it comes to products that will attract the most attention, these include comfortable clothing, at-home fitness equipment, home decor, and healthy beauty items. Such choices are mainly due to people prioritizing practical purchases during the pandemic.
Safety concerns over holiday shopping?
Despite optimistic vaccine discoveries, many justly fear the cold winter months could still spark the possible spread of the coronavirus, especially as some countries once again see a remarkable rise in cases. On that note, it is reasonably expected that many will promptly turn to e-commerce to purchase their holiday gifts for the season. Deloitte, for instance, expects holiday e-commerce sales to surge by 25 to 35 percent, equating to between $182 billion and $196 billion. Taking into account that covid-19 has accelerated a fundamental shift to online shopping by approximately five years, these considerable numbers come as no surprise.  
Although safety is undoubtedly the main reason shoppers shift to e-commerce this holiday, we have dived deeper into its specific causes.  Looking at the US, there are few leading concerns regarding in-store holiday shopping during the pandemic. Consequently, shoppers are primarily concerned about having to deal with others who are not taking coronavirus seriously, being too close to others, and worrying about their own health and safety.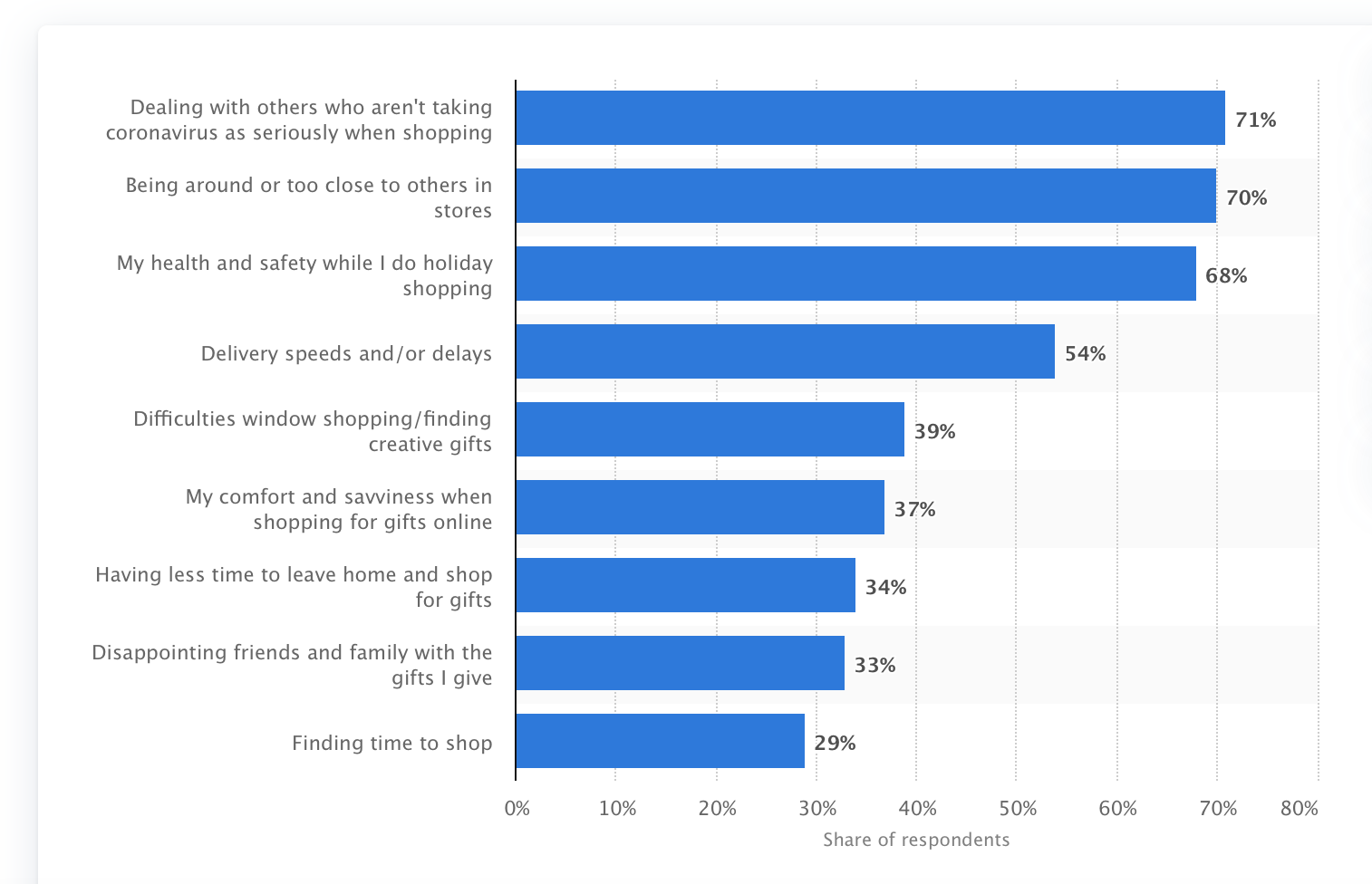 Employing data to design your holiday store
As the National Retail Federation debuts their 'Shop safe, shop early' campaign, shoppers are tacitly encouraged to start their holiday shopping on time, when stores are less crowded. For retailers, this undoubtedly means it is no longer about the product, pricing, and promotions, but instead about prepare, perceive, and pursue, at least according to consulting firm Kearney.  
When adequately preparing their store for the holiday season, retailers must start planning with accurate data.This suggests knowing how many people are allowed in the store at a given time, what is the traffic, peak hours, and area that attracts most customers. A key part of planning the holiday store also means taking into account how much staff will work in the store.
The remarkable resurgence of the pop-up shops
As shoppers carefully avoid crowded places but still seek a unique experience, we witness the resurgence of an established concept - the pop-up store.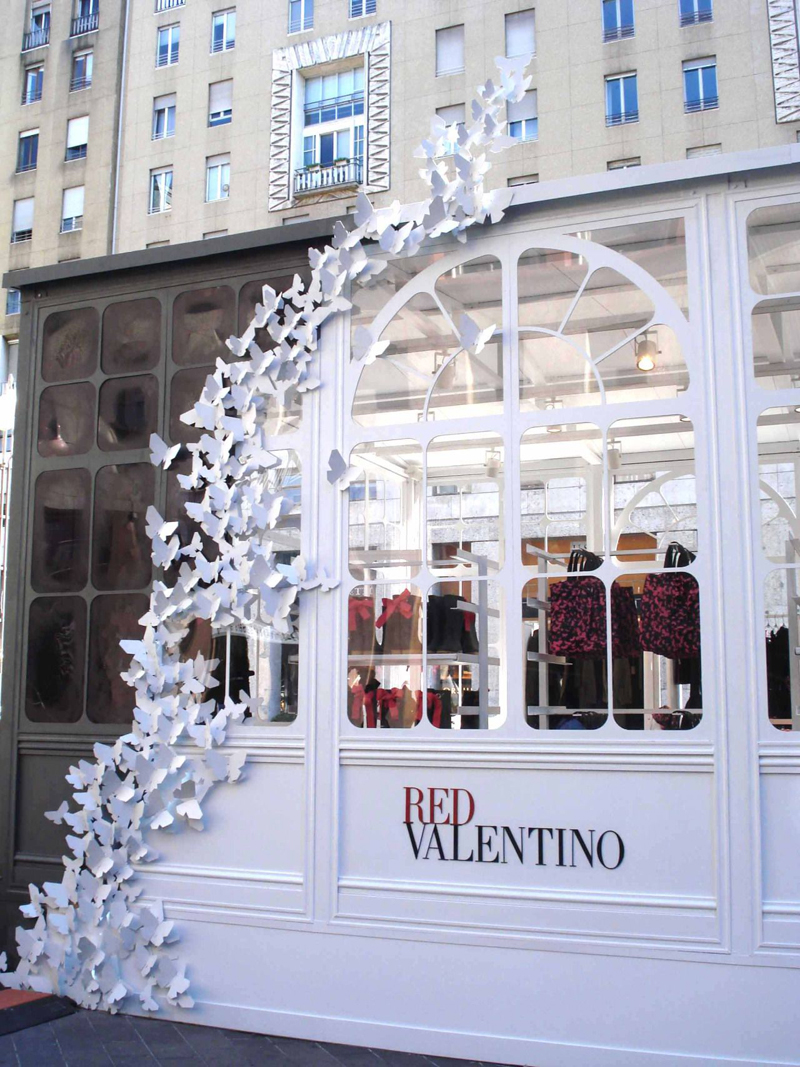 Temporarily set at a unique random location, the open-air stores can be exceptionally interesting during the global pandemic. In light of various necessary restrictions, pop-ups allow shoppers to rapidly acquire what they require and leave the store. This is a convenient feature as most shoppers currently avoid browsing through shops, but rather come prepared with what they desire to purchase.
Design tips for maximizing space
As social distancing restrictions are put in place, many brands seek to maximize their space implementing smart solutions like vertical shelves. With such a necessary arrangement, they can rack items at varying levels, delivering an appealing minimalistic look. Besides vertical shelves, retailers can also implement a power wall with the best-selling products as that will instantly capture the shoppers' attention.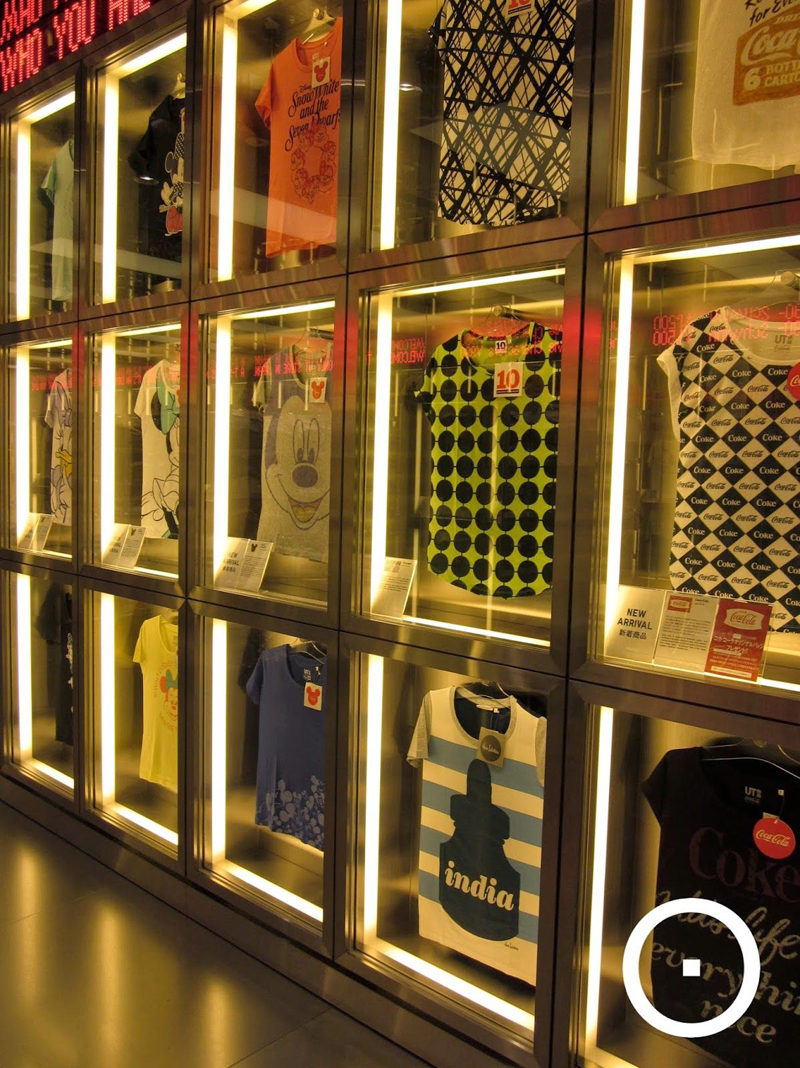 As many avoid entering the stores but rather stay outside, placing effective visuals and messages about popular products and deals is mandatory. Whether it is by telling a compelling holiday story, or by showing your most popular products, window displays should also capture the attention of passengers. Retailers can, in addition, use the display to distribute significant messages about how they are looking out for the shopper's health and safety.  
On that remark, retailers should devote increased attention to carefully managing their queuing system by relocating key staff members outside of the store. It is substantial to note that while shoppers queue, brands can still communicate with them through advertising material like posters. If finally, there is a significant wait time, they can encourage shoppers to buy online from outside of the shop, and collect their purchase in-store.
From queue management and maximizing store space to designing a pop-up and applying various safety measures - retailers will undoubtedly have many tasks this pivotal year. Being thoroughly prepared will, however, help deliver a good shopping experience and ultimately increase their sales.
Are you curious to learn more? Through our integrated decision-making platform at StoreDNA, we help you deliver dramatically improved performance through better product assortments, store layouts, visual merchandising, and associate optimization. Learn more here.