Gone are the good days when established brands could wholly satisfy their shoppers by simply having a great product. Wonder why? Because nowadays, if you don't have an excellent product, you are instantly out of the game. With thousands of brands to choose from, it is becoming increasingly difficult to reach customers.  Largely due to the constant oversaturation of wrongly targeted ads, their attention span has become shorter than ever.
But what does this signify for retailers? How can they reconnect with their faithful consumers and spark loyalty? Is it barely possible to be loyal to one brand, with so many choices available?
Retail Is a Relationship-building Game
Torben Valsted and Martin Birac from StoreDNA have analyzed multiple store insights, coming up with some compelling ideas that emphasize retail as a relationship-building game. According to them, retail represents an infinite game of building consumer and shopper relationships through the way we connect emotionally and transactionally. The perceptual aspect, largely linked to our emotions, primarily occurs through the brand-building process even before the shopper enters the store. The behavioral aspect, on the other side, is tightly linked to the process of the transaction and is profoundly influenced by our in-store experience. To clarify this key idea, Torben and Martin have shared the following concept: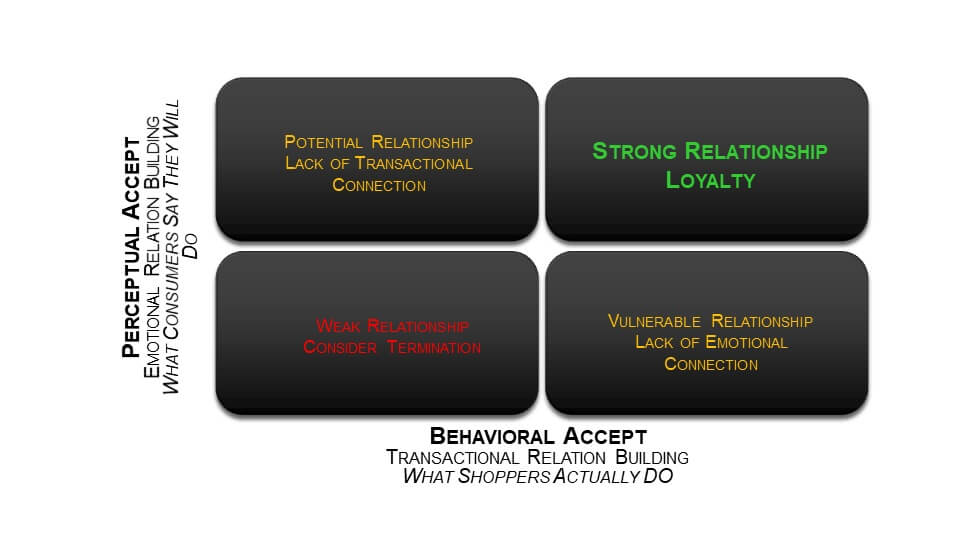 Based on these, the duo broke down the general shopper relationship funnel, into the store attraction and in-store experience. Addressing the first part of the aspect, store attraction, it has been classified into three sections: discover, mission, visit. The in-store experience is typically divided into the following stages: browse, choose, experience, interact, try, trial, decide, buy & do.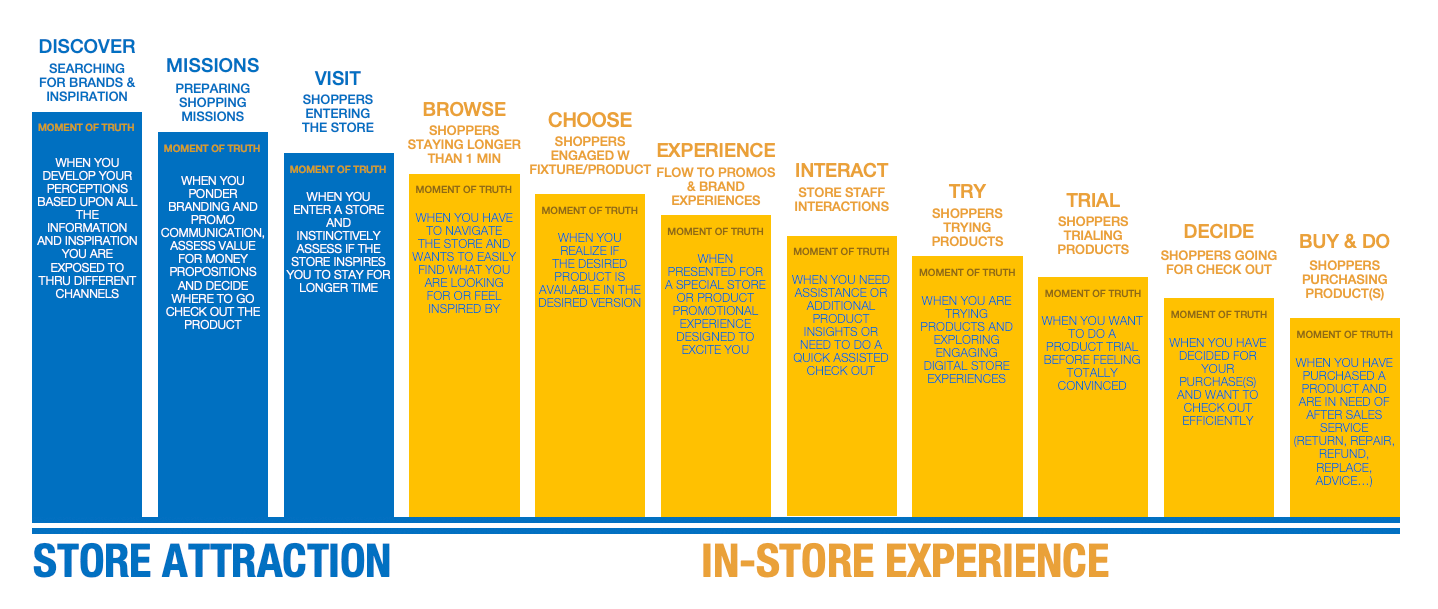 Looking at the funnel, it indeed provides a practical tool for retailers worldwide to grasp how the relationship between a brand and a customer is built. Moreover, it delivers a practical opportunity of identifying whether they are overlooking any aspect, or whether any adjustments need to be done.
Read more about their findings here.
What about emotions?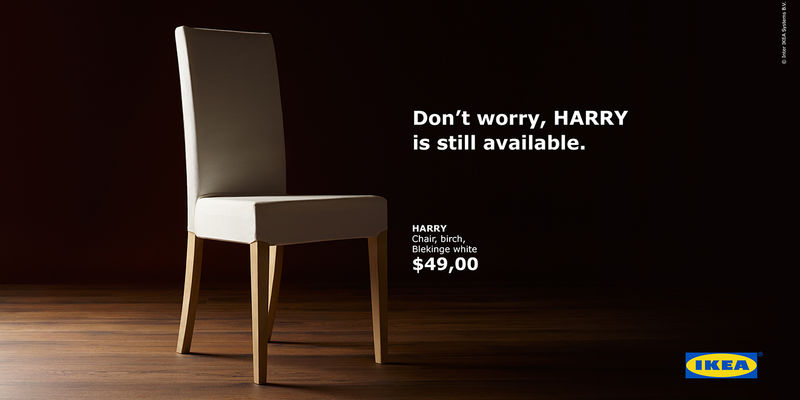 As Torben and Martin point out, retail indeed is a relationship-building game. But what happens next? How can a retailer ensure the shopper will keep coming back to their store, and choose them over their competitor? According to research, a lot of our favorable attitude towards brands naturally depends on our emotions, and how the brands make us feel. This feeling, which is embedded throughout every key aspect of the brand, is frequently the reason behind our choice.
Hence, purchasing a Louis Vuitton bag will increase our self-esteem as we will feel successful and powerful. Getting a Patagonia jacket, on the other hand, will work better if we seek internal self-gratification, as we have chosen a sustainable brand that causes less harm to our environment. Whatever emotion you, as a retailer, decide to generate, the question is blunt: where to start from?
You are a people's brand more than you are a customer's brand
Are you a Nike or Adidas person? Or perhaps an Apple person? These fundamental questions are so often asked, and within them lie some crucial features of successful brands: they encourage people to identify themselves with the brand, and the lifestyle they have created.
When building your brand, you should consistently choose to represent a people's brand, instead of a customer's. If you want loyalty, you should leave the mindset that customers come and go, and should instead give them the feeling they belong to the company and that they are part of its growth and success. Achieving this starts with your employees. At Starbucks, for example, employees are called 'partners', which undoubtedly gives them an additional feeling of accountability and responsibility, further strengthening their relationship with the brand.
Lead a dialogue instead of a monologue
To foster a relationship with your customers, asking questions and listening to your audience is crucial. Besides monitoring their behavior in-store and coming up with useful analytics, go a step further and ask them directly: how do you feel regarding our brand? What do you desire in our store?
We recognize an increasing number of companies turning to social media and reaching out to their audience to obtain some direct insights.  Properly conducting a sentiment analysis and directly hearing from your customers can undoubtedly help you save effort and time, while simultaneously receiving full, honest feedback. A genuine dialogue sets a sturdy foundation for a successful customer-retailer relationship.
Switch your focus to experience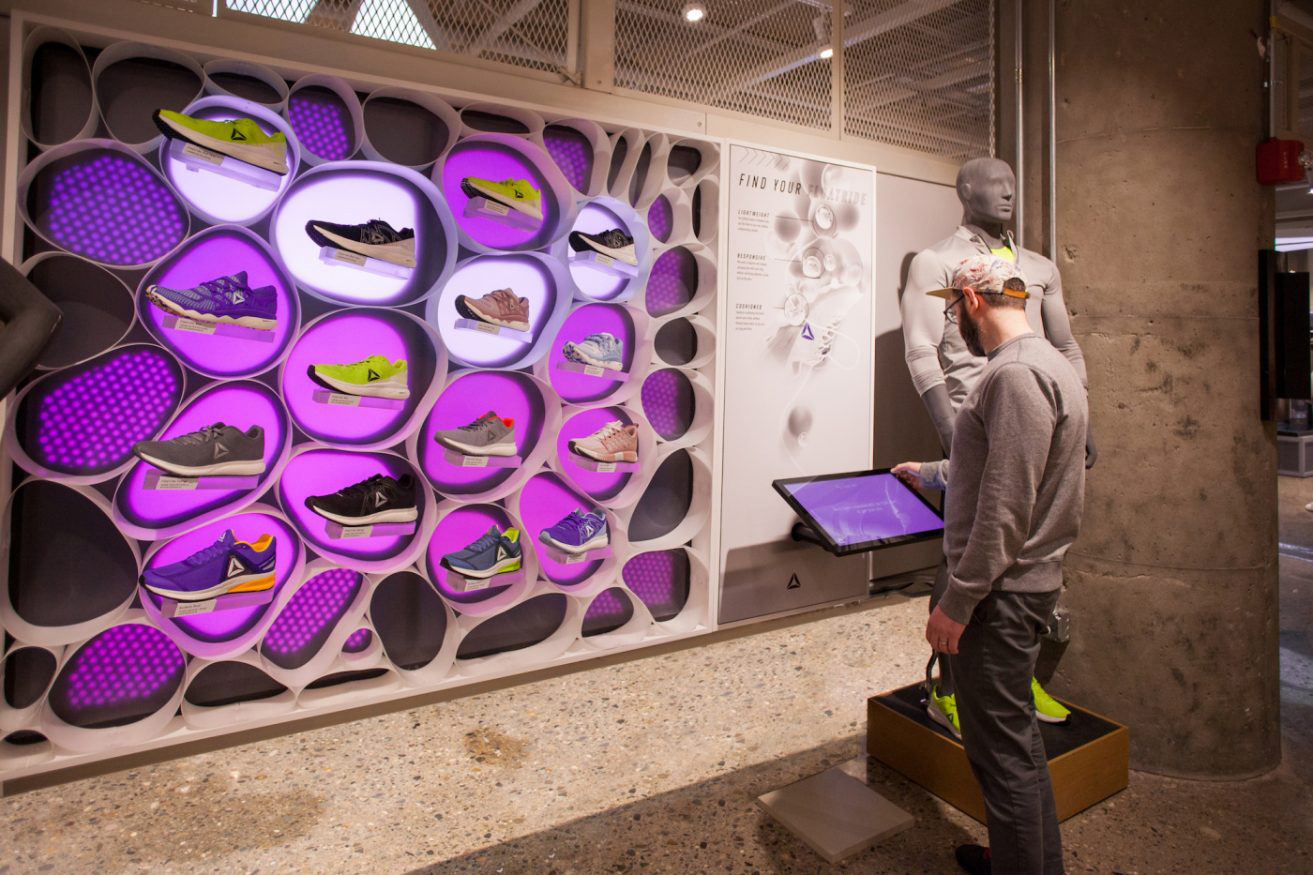 Once more, we go back to the emotions that a leading brand should typically trigger in a potential customer. Because there are so many different brands out there, it is not only about the product/service you are offering, but also about the experience. Here, having brick-and-mortar provides a key advantage, as it is the place customers come for an experience.
Display your items in a way that encourages exploration. Luxury brands purposely decide not to display all of their products, because they want customers to ask the personnel for them. In this way, the well-trained, knowledgeable staff will be able to not merely tell more information about the specific product but also share the magic and the story of the brand, while offering a genuine, personal experience. This tactic is also employed to avoid the reputation of having a  'pushy' sales staff.
Build your story
Ultimately, a key way to generate emotion in your customer is to fabricate a story around your brand that will resonate through every move you execute. Traditionally, there are two fundamental models of brand building:
The history brand-building model:
Used more frequently by European brands, this specific model pays regular allegiance to the legacy of its creator, and it is nurtured at a symbolic level by history. Chanel, for instance, represents a primary example of a brand that has secured its success on the designer's name, taking the product quality to the extreme. The image of Coco Chanel, her spirit and way of achieving things, resonates in every aspect of the brand, and her values are constantly communicated to the shoppers. This model is particularly useful to connect with your audience if you have a strong designer name.
The storytelling building model:
Thanks to its US origins, this model is mostly used by American and novel brands. In that case, there is no myth or original story, but the company has to design one for themselves. Ralph Lauren, in this case, represents a classic example. Originally called Ralph Lifshitz, he has based his character on Great Gatsby and has invented a whole story that has been enthusiastically shared around the world. Here, a store fulfills a leading role in intentionally creating the wanted atmosphere and genuine expression. You can use this model if you are a relatively new brand, and with no single key figure in your company.
We all naturally want shoppers who will be loyal to our brand, who will consistently choose us over our competitors, and who will spread some great WoM with their friends and families. Although this sounds too good to be achieved, apply our aforementioned tips and you will undoubtedly bring your brand to the next level.

Are you curious to learn more? Through our integrated decision-making platform at StoreDNA, we help you deliver dramatically improved performance through better product assortments, store layouts, visual merchandising, and associate optimization. Learn more here.