With coronavirus spreading at a fast pace across the world, many retailers are unexpectedly finding themselves in a crisis, that, truth be told, no one was fully prepared for. What has grown from 'it is just flu' to grave concern worldwide, the way retailers will cope with COVID-19 is a defining moment that will greatly determine their future. Who will rapidly adapt to the challenges of modern times, and who will painfully lag behind?
Big names including Nike, Urban Outfitters, Abercrombie & Fitch, and PVH have indefinitely shut down their doors as a precautionary measurement against spreading the novel virus. As offices close and companies ask employees to work from home, sales are likely to take hit from the closure of big-box stores. Although the companies stressed that their online stores would remain open, many emphasized potential shipments delays as employees work remotely. Struggling to be the 'everything store' during the pandemic, e-commerce giant Amazon is also limiting shipments of non-essential items to warehouses.
As the coronavirus worsens, in many cases across the US, employees working on the storefront are being compensated for the lost shifts, leading to breakthrough changes in paid sick leave policies for retail workers.
How is COVID-19 affecting our shopping behavior?
According to a recent study on retail sales in Europe, between the 9th of March and the 20th of April 2020, retailers are expected to face a loss of 3.26 billion British pounds as a consequence of the hazardous virus. In comparison with France and the UK, Germany is predicted, with 728 million British pounds, to be hit the worst.
Looking at the state of stores in the past month of February, brick-and-mortars have, compared to last year, already been suffering from a 4.5% drop in sales and a 6.3% decline in foot traffic, the coronavirus not making it any better.
Certain sectors and companies are indeed more exposed than others. In the food sector, many companies are already forced to cope with a surge of traffic both physically and online as customers go into panic mode and start stockpiling.  As toilet paper, sanitization products, medications, and non-perishable food become high-demand products, the role of stores and shopping is transforming. With social distancing in adoption, grocery stores further face the challenge of simultaneously protecting the health of employees and their customers. As demand for contactless delivery methods increases, already pressured supply chain are in further trouble.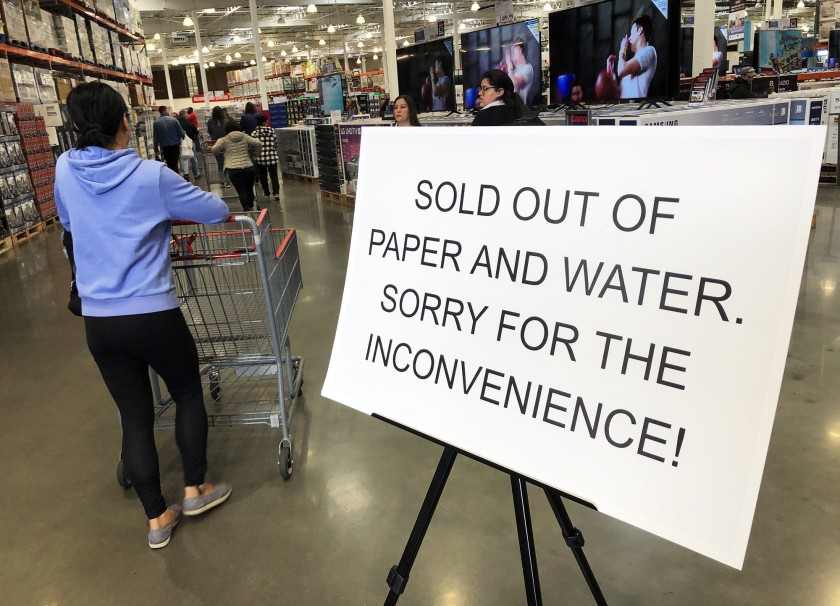 Luxury market is particularly vulnerable
Looking at counterparts like China, Italy and other hard-hit countries, the virus greatly reduced both traffic and revenue in many segments. Relying heavily on Chinese shoppers whose luxury spending accounts for 33% of the global market, the luxury market is particularly vulnerable. According to Bain Research, luxury retailers in China expected sales to decline between 60% and 95% compared to the previous year, posing an immense threat to the survival of many companies. As shoppers avoid going to malls, sales in apparel and luxury have drastically plummeted, while consumer adoption of online channels has been on the rise. According to the consulting firm Boston Consulting Group, various luxury brands as L'Oréal have, as a consequence, pulled offline advertising and reinvested it online.
To stay afloat, brands worldwide are forced to reinvent the way they do business, how they communicate with their customers, and what novel innovations they can offer as alternatives to their everyday service. Here are some tips:
Define your approach
Although there is a clear uncertainty to where this is all heading, as a brand, being honest and transparent about your efforts regarding Coronavirus is crucial. Focusing on employees who are on the front line with your customers, encourage your stylists, personal shoppers, and customer service to regularly stay in contact with shoppers by sending them notes, reminders and private offers.
For example, online service Rent the Runway sent a notice to customers informing them about additional transparency regarding their cleaning processes. Proactively sharing your current efforts, you are keeping your customers informed. For example, during the outbreak in China, many local beauty companies have  been giving online suggestions on how to use products to reduce skin issues caused by prolonged wearing of face masks. Such practical and easy steps provide great support to your customers.  
Whilst many predict the current crisis will urge investments in omnichannel, forecasting technologies and AI, gaining a real-time understanding of your customer's concern can also be done by analysing social media sentiment. What are their biggest fears and concerns? What are they expecting from you? How do they see your role as a brand?
Although many customers are showing extra understanding with retailers, keep in mind that some are still demanding for an impeccable service: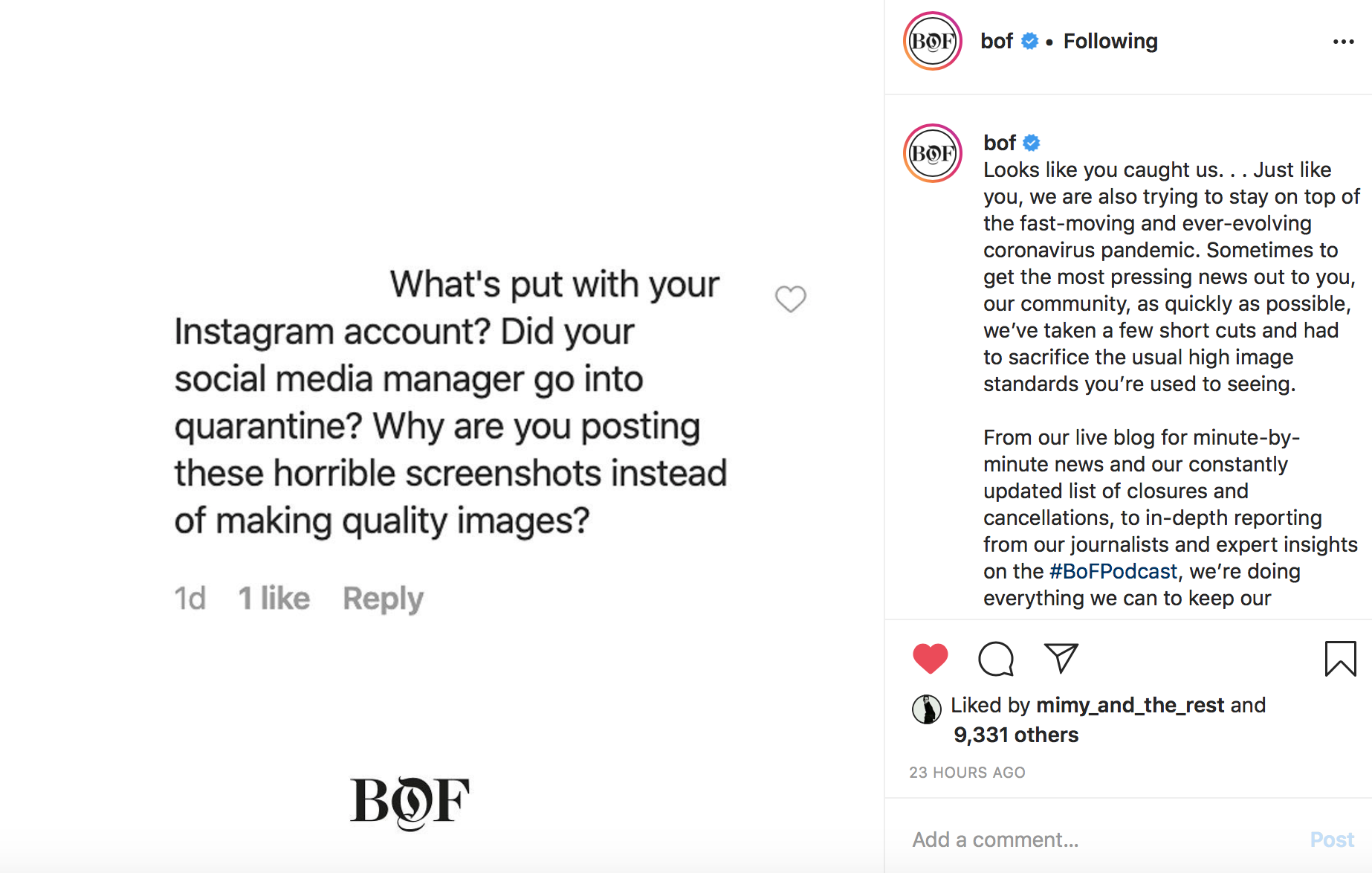 Offer alternative experiences
As the customer's adoption of online channels fastens and marketing activities are migrating online, brands are focusing on developing messages tailored to the current crisis. With families gathered around and a loads of time to spare, turning to gamification elements that emphasize the community experience can be a good idea.
Being constantly updated with news regarding coronavirus, many customers feel overwhelmed and anxious. With that on the mind, any activity that requires a lot of involvement might not work well, but providing your customers with a relaxing online getaway could help. Many museums have already started offering free virtual tours. Introducing this approach in retail could be interesting as it can bring the spark of your brick-and-mortar to the comfort of our homes.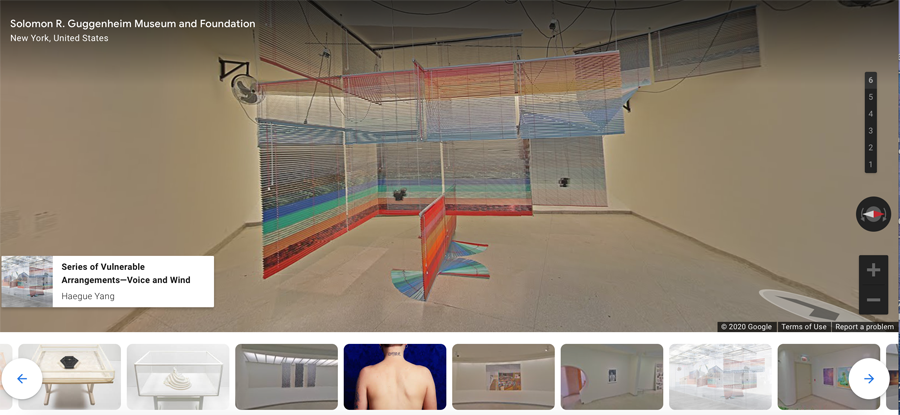 Applying the element of experience, you can guide your shoppers online through the store as if you were a top-notch staff member. You can simultaneously offer them personal advice and answer any questions regarding your services. This is also a good opportunity to immerse your shopper in the story behind your brand, giving them an opportunity to daydream in tough times.
Shift your efforts to community building
With a large platform, big brands can to a good extent affect the sentiment among their customers and how they will act regarding coronavirus. To communicate to your audience,  share messages that reinforce the central value of your brand. Using a communication that focuses on reducing panic while being clear about the challenges you as a brand are currently facing, you can make decisions as lay-offs and delayed shipments more understandable.
Currently, many retail brands have paused their marketing campaigns to focus on sharing messages of support and making donations for medical supplies. LVMH, for example, has shifted its campaign efforts and will start producing hand sanitizers using its perfume production lines amid coronavirus.
The crisis is undoubtedly a defining leadership moment for retailers. The already vulnerable retail industry will certainly suffer great consequences due to the coronavirus outbreak. To what extent that affects you as a brand will, however,  largely depend on the approach you take.
Are you curious to learn more? Through our integrated decision-making platform at StoreDNA, we help you deliver dramatically improved performance through better product assortments, store layouts, visual merchandising, and associate optimization. Learn more here.