As non-essential retailers are ultimately allowed to open their stores this past month and queues form in front of key brick-and-mortars, we witness a rise in consumer confidence. Giving us an optimism boost regarding the industry and its economic recovery, such a situation also serves as a pressing reminder to the necessity of commencing the conversation about one worrying topic - sustainability.
The coronavirus and the climate crisis in common are both physical shocks to humankind. The recent collective experience of Covid-19 has, perhaps, given us a glimpse into similar ways a climate crisis could naturally affect us: from a drastic disruption in the supply chain and demand to profound damages to the economy, both situations are hurtful to the private and public sector.  
The recent crisis has also urged retailers to rethink their company values and fundamental beliefs. Inevitably, many start realizing that 'business belongs to society, not the other way around', and that consumers, communities, and employees are equally influential as shareholders. Consequently, the old-school idea that doing business can be done without considering any purpose beyond sales, is gravely bruised. Moreover,as retailers worldwide deal with a problem of global nature, the urgency of collaboration, and adopting a collective approach to address issues become as self-evident as ever. As a logical deduction of the aforementioned, retailers do not need to waste time rushing into the continuation of their businesses as they were, as that is, simply said - impossible.
Instead, taking a step back to correctly reflect and answer the following questions is vital: what prevailing trends will be influencing our future and how can we grow through them on a long-term basis? How can we reconnect with the community to rediscover our ultimate purpose? What are we doing internally to be ready for future crises that powerfully affect humankind? How are we honestly incorporating eco-friendliness in our business model?  
With valuable time on their hands to rethink former strategies, the 'shift to sustainability' has remained the one to regularly pop-up on retailers' agendas. However, to cause this fundamental switch, the prerequisite must be the focus on long-term goals. The ones that do not only tackle one area, but are reflected in re-thought supply chains, infrastructure services, and thoroughly delve into every segment of the retail industry. To radically transform systems that have been built with an appalling lack of critical concern for the environment will undoubtedly take time. Nonetheless, there are some agile methods retailers can start implementing directly. Laying on essential pillars of ecological sustainability, these prevalent methods will undoubtedly help emphasize your core values and strengthen your brand:
Reducing ecological footprint pays off
Retail buildings traditionally consume the largest amount of energy among non-residential buildings in Europe, with various factors contributing to a company's footprint. Most emissions, however, typically come from electricity, air conditioning, and lighting. When hearing about the urgent need to radically reduce their footprint, most retailers run away. Nonetheless, rarely do they know that such a direct action is not only beneficial for the environment, but their wallet as well. According to Carbon Trust, voluntarily cutting one's energy costs by 20% can represent a bottom-line benefit equal to a 5% increase in sales.
A successful company that has been one of the leading pioneers in doing so is Starbucks, with over 1,612 LEED (Leadership in Energy and Environmental Design) certified stores. Shops with this accreditation typically have controlled LED lighting, concrete floors free of dyes, sustainable wood, recycled rubber flooring, and remote-controlled energy management systems. Moreover, they are 30% more water and 25% more energy efficient, and in countries that popularly use solar panels, the stores are run on 100% renewable energy. With its ultimate goal of launching 10,000 LEED stores in the next five years, Starbucks has the considerable potential to save $50m in utility costs over the next decade.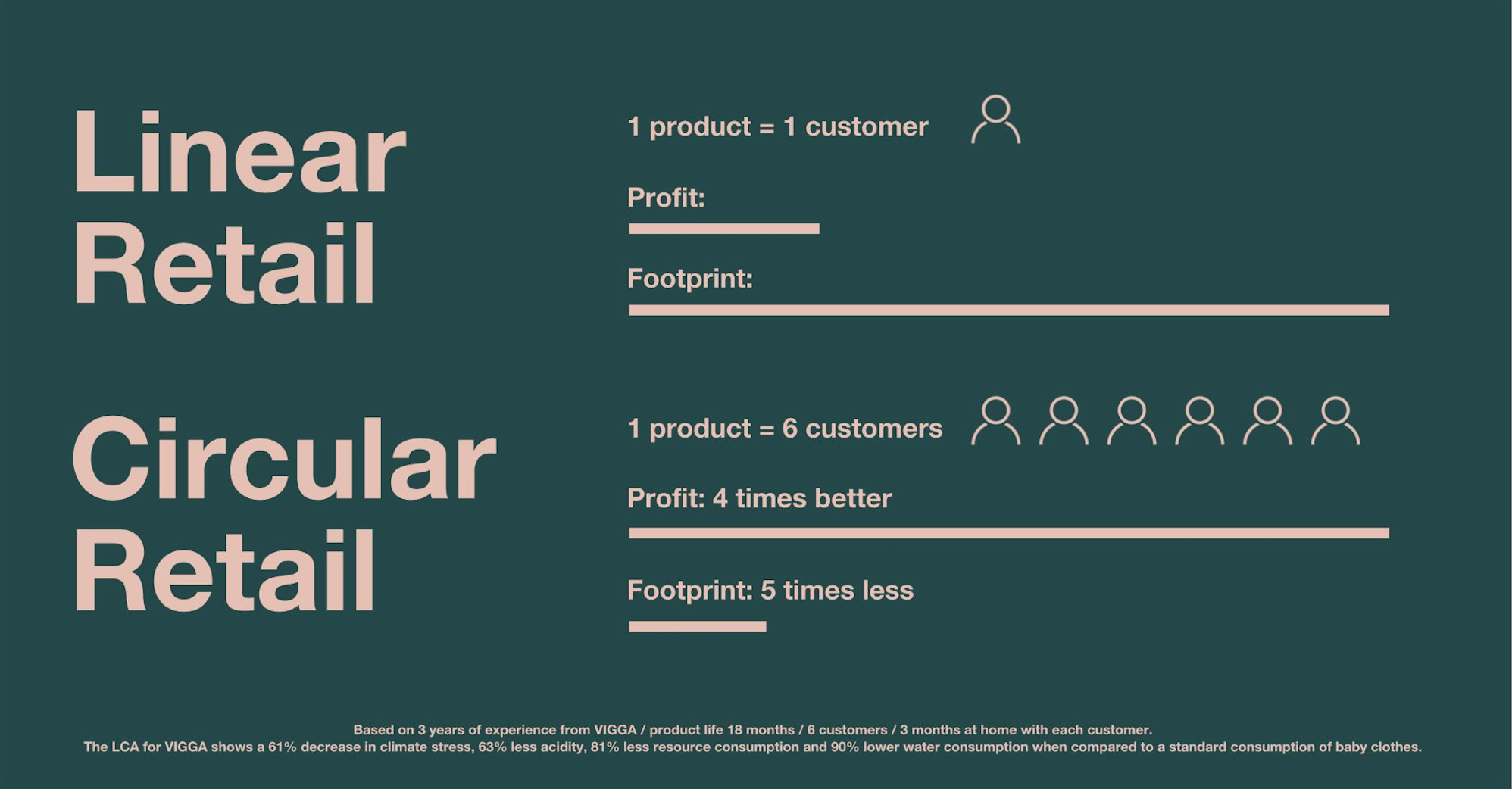 Revising your brick-and-mortar design
When it comes to retail and sustainability, we can't neglect that change is invariably happening: we note a shift towards recycled clothing, ethical fashion, and circularity. However, carefully looking at the way brick-and-mortars are designed, not much progress has been generated that will make stores themselves more sustainable. A sustainable store design could undoubtedly benefit you from various fundamental aspects. From differentiating yourself from potential competitors to becoming a sustainable leaders, here are some innovative ideas to learn from:  
Bottletop, the world's first 3D printed store that sells sustainable accessories, communicates a clever idea of how retail outlets will look like in the possible future. The store has been assembled by robots and its modern interior is made from over 60,000 upcycled plastic bottles and rubber types. With its zero-waste design interior, it accurately reflects Bottletop's specific mission to empower people through sustainability.
Urban Outfitters, the lifestyle youth brand, is implementing its sustainable design strategy by developing repurposed spaces. They built their HQ offices in a renovated abandoned shipyard, while their brick-and-mortars have on top been constructed through 'adaptive reuse'. One of their local LA stores, for example, is set in the former Rialto Theater, now adapted to fit shopper needs.
When talking about sustainability, it is impossible not to prominently mention Stella McCartney, the leading pioneer in sustainable retail. Her London-based flagship is made of recycled foam and cards from waste papers. The store, in addition, uses biodegradable mannequins produced from sugarcane bioplastic.
Sustainability as a competitive advantage
The brick-and-mortar that has implemented a sustainable design enjoys a competitive advantage over e-commerce for several reasons, one of them being transport. Although many would naturally assume that e-commerce reduces shopper's usage of transport to reach physical stores, reliable data proves otherwise: no matter the considerable increase in popularity of online shopping, people are still driving to brick-and-mortars as much as in the past. Besides transport pollution, an issue e-commerce retailers have to deal with is waste. Looking at the packaging waste which resulted in 35.4 million tons of container-board a few years ago in the US only, the practical convenience of e-commerce is becoming less clear, at least from an environmental perspective.
To progressively reduce the adverse impacts of the supply chain on the environment, retailers should offer viable alternatives: if customers still prefer the practical convenience of e-commerce, encouraging the use of eco-friendly packaging is suggested. Moreover, informing them about the impact same-day delivery has on the supply chain, and encouraging instead to click-and-collect is advisable. Finally, tapping into the power of data to accurately determine the wants and specific needs of your shoppers is key. Optimizing and re-evaluating your supply chain to reduce remaining emissions can more considerably be done by collaborating with a good logistics provider.
If there is one thing that the coronavirus has undoubtedly clarified us, it is that our future must focus on sustainability. Whether it is through store design, changes in the supply chain, or sustainable products, each retailer has not only the power, but the responsibility to make a change.
Are you curious to learn more? Through our integrated decision-making platform at StoreDNA, we help you deliver dramatically improved performance through better product assortments, store layouts, visual merchandising, and associate optimization. Learn more here.