Excellent news! StoreDNA has been featured in Chalhoub Group's 2019 Sustainability Report "Building a Culture of Trust for a Sustainable Future".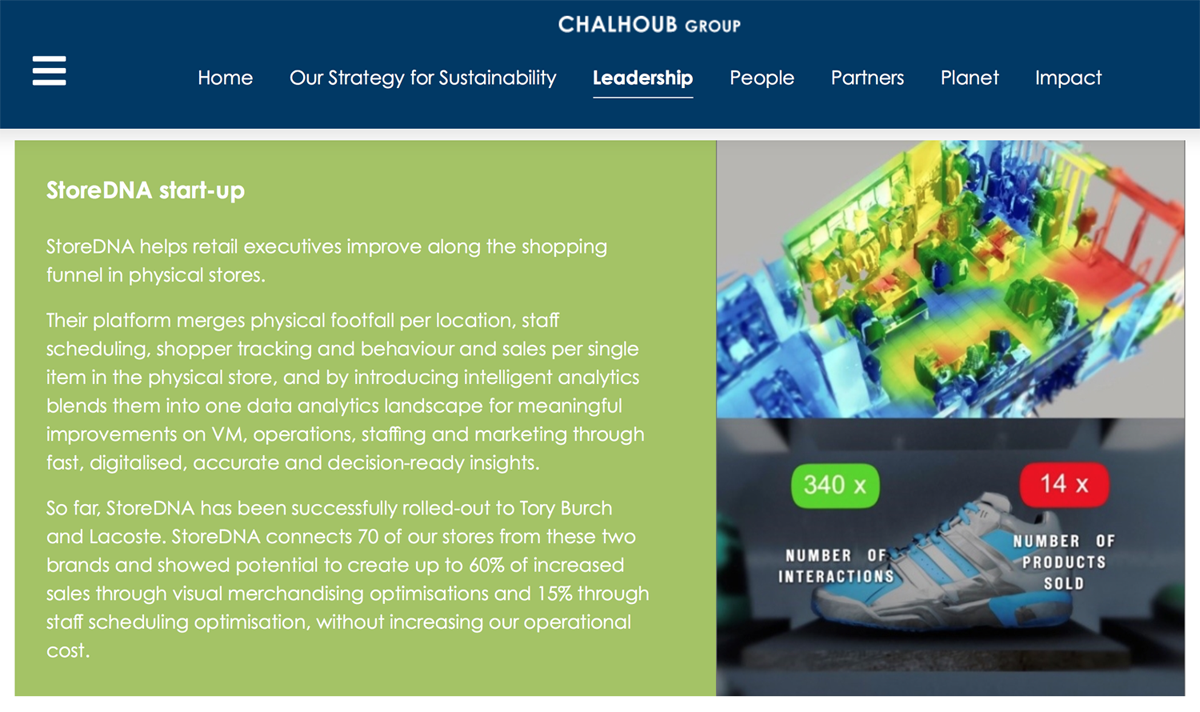 Under the section Leadership - Innovation and Creativity, we are highlighted as a company that successfully embraces creative and entrepreneurial spirit to drive innovation. To do so, we offer decision-ready insights that significantly help retail executives better their performance without increasing their operational cost.
About the Chalhoub Group
As the leading partner for luxury in the Middle East, the Chalhoub Group seeks to encourage companies to explore creative ideas in the industry. Our client's Sustainability Report showcases the progress made concerning the 17 Sustainable Development Goals (SDGs) they are committed to, with focus on the following five areas: Leadership, People, Partners, Planet, and Impact.  
As an expert in retail, distribution and marketing services, the Chalhoub Group has also launched the Greenhouse Accelerator program which aims to accelerate tech-driven solutions. The startups that participate in the program are offered market access and expertise, and are matched with corporate sponsors to convey the proof of concepts, with the aim of singing commercial agreements.
United Nations Global Compact
More than that, the Chalhoub Group's 2019 Sustainability Report featuring StoreDNA will be part of the United Nations Global Compact, the world's largest corporate sustainability initiative. Being committed to implementing further sustainable practices into their business, our client has been a member of the UN Global Compact community since 2014.
With participants from more than 160 countries, the UN Global Compact aims to mobilize a global movement where businesses worldwide adopt sustainable and socially responsible policies and report its execution.
We are excited to share our work with such an influential network of changemakers and are honored to be recognized as a driver of innovation ourselves.  If you want to familiarize yourself with our work, keep an eye on the blog as we will soon be sharing novel case studies that outline our processes.
Are you curious to learn more? Through our integrated decision-making platform at StoreDNA, we help you deliver dramatically improved performance through better product assortments, store layouts, visual merchandising, and associate optimization. Learn more here.