As coronavirus settles into our ordinary routines, most companies are forced to reinvent how they work. From diversifying their product range and introducing home delivery to urgently shifting their stores online, businesses are adapting to the pandemic in various ways.
In such uncertain times, maintaining a satisfactory customer experience has come to be one of the critical challenges businesses are facing. How fast you adapt and innovate, how well your customer support is, and how skilful your communications are, are all deciding factors that will determine whether your customer will stay with you or will go somewhere else.
According to McKinsey, several actions can address customer needs and ensure an efficient experience in the time of crisis. A swift step outlined in their novel research includes a focus on care and concern of community, customers and employees. But how exactly does one achieve this? To depict a more exact picture, we've collected several cases that show in what way are companies adapting to safeguard their customer and employee base.
Community Care
As 64 percent of customers choose to buy from socially responsible brands, the contribution and the way you operate during the crisis is the determining factor of whether your buyers will stay loyal or not.
To focus on community care, many retailers are donating food, money and other resources, and are repurposing their manufacturing facilities to contain the spread of the pandemic. Consequently, cosmetic house L'Oréal started the production of hand sanitizers and hydro alcoholic gel, while Dolce&Gabbana has partnered with Humanitas University to fund a coronavirus research project.
But what about department stores? They too are contributing in their way. British John Lewis has, for example, focused their efforts on helping hospitals. They are delivering 'rest and fuel packages' that include cosmetic and food basics and have equally created a 'wellbeing area' for medical staff and volunteers. The latter is remarked to represent the unique place where frontline workers can take much-needed rest in-between work.
Customer Care
Creative partnerships
As coronavirus greatly reshapes our customer experience and results in social distancing, we see businesses' attempt to deliver the experience more intimately - bringing it to our homes.
As a result, supermarkets like Aldi, who have never sold groceries online, are stepping up their game: the chain has launched a particular 'box of essentials' which equips the most vulnerable customers with necessary items at an affordable price. They have also introduced home delivery for certain food parcels.
Coronavirus has not only transformed the way we do business, but has also resulted in new partnerships. To support those who can't leave their residences, meal delivery firms are now branching out into groceries. In Paris, for example, Uber Eats has teamed up with supermarket chain Carrefour to deliver essential goods in France, before rolling out the service worldwide.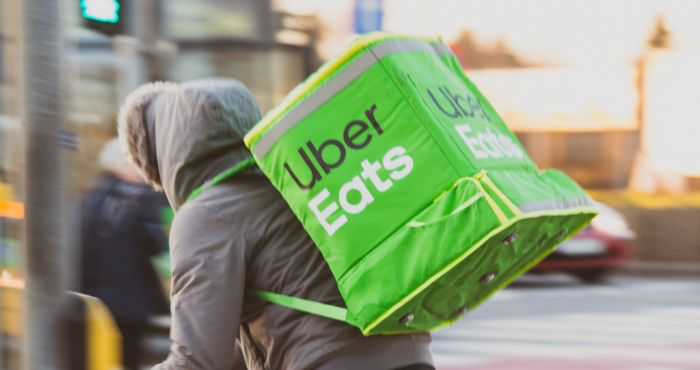 Fitness is greeting customers home
To adapt to customer's needs, besides offering free deliveries and extended return policies, many are forced to experiment with immersive technologies and adopt a new communication strategy. According to research, 75 percent of the Top 100 retailers have introduced a coronavirus-related message on their site, and focus has been on diversifying their product range to fit the crisis. In retail, special attention is on 'home-office outfits' by the likes of H&M, or the 'home-training club' collection by ASOS. As shoppers stay home during the period of quarantine, various fitness companies are offering extended free trials for their online and app-based classes, where applications such as Nike NTC saw an 80% increase in app workouts.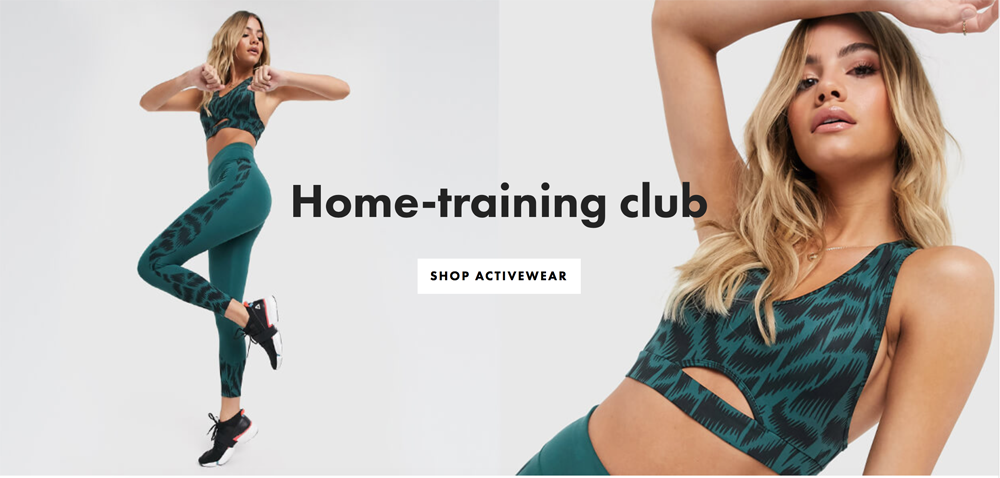 Shift to digital support
As shoppers stay home, brands aim to bring the user experience digitally to their homes. For instance, John Lewis, in partnership with Waitrose & Partners, has started offering virtual services that allow users to book one-to-one video appointments to get expert advice on nurseries, styling, interior design, and home activities like crafting and gardening. Named 'Your Partners Through It All', the site aims to bring a touch of in-store experience online.  But is focusing on user experience really the crucial step to create substantial value during a crisis? It indeed was the winning strategy in 2007-2009 recession, but we are about to see whether that is the case in the post-pandemic era.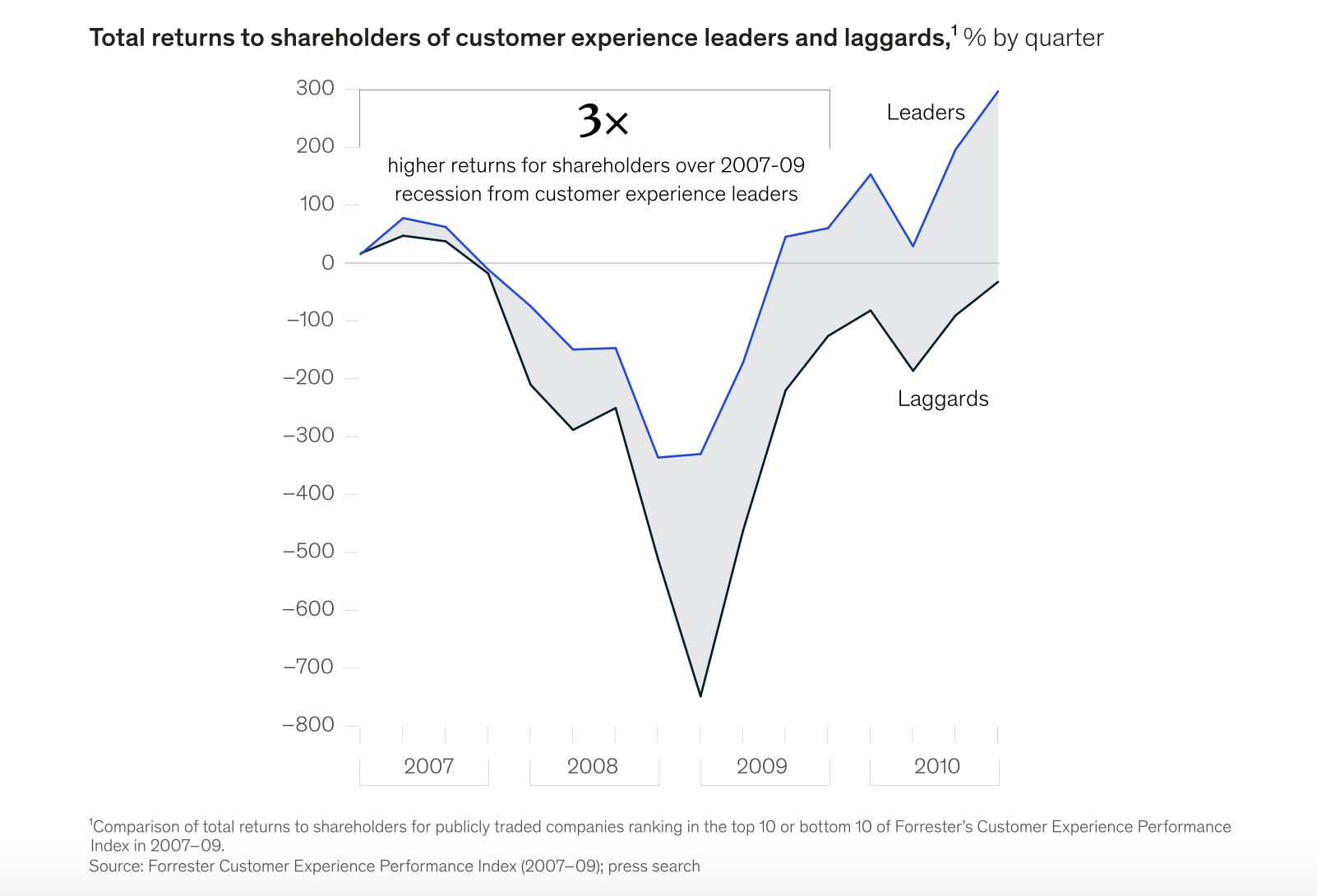 Employee care
Focus on Mental Health
Besides customer and community, providing employee care is crucial for businesses that want to stay afloat. To do so, various companies including Nike, Reebok, and Urban Outfitters are continuing to compensate hourly workers for their lost shifts, despite store closures. For businesses still working, many advice providing alternative tools and training that will enable us to deliver enhanced customer experience.
Even as coronavirus cases level out and decline in some countries, businesses will have to prepare for anxiety, depression, and other mental health challenges that are likely to come out after the pandemic. With that in mind, companies such as Walgreens have already started implementing digital tools that focus on psychological state and peer support, as well as stress relief. Starbucks, on the other side, has extended its mental health benefits. They have partnered with Lyra Health to offer personalized mental health care and have shared access to a network of mental health therapists and coaches. Aware that without a stable workforce, post-pandemic recovery will be even tougher, these companies are trying to make the transition smoother.
Staying Optimistic
With the pace of innovation and adaptability becoming crucial for one's survival, we are witnessing creative reorganizations that, if proven to be a success, are likely to stay in the long run.
Although coronavirus has undoubtedly disrupted the industry, there are reasons to stay optimistic. Besides emphasizing the power of businesses to adapt to great challenges, we are already noticing the fast recovery of some luxury brands, such as Hermès. When China started gradually reopening its shops in March, sales had grown by double-digits compared to the previous year. With this in mind, we keep being optimistic about the luxury retail rebound, and are wondering how other luxury powerhouses will cope.
Indeed, as the coronavirus is clearly to produce a lasting impact on consumer behaviour, monitoring the newly adopted habits, priorities, and needs of customers is mandatory. While keeping experience leaders at the forefront, and with special attention on care and concern,  we are curious to see the role of the current innovations in the post-pandemic world.  

Are you curious to learn more? Through our integrated decision-making platform at StoreDNA, we help you deliver dramatically improved performance through better product assortments, store layouts, visual merchandising, and associate optimization. Learn more here.